AirPods are wireless headphones developed by Apple and the first of these headphones was launched in December of 2016 and so far there are 3 different versions which are AirPods and AirPods 2 in addition to AirPods Pro.
All versions of AirPods support Apple's digital assistant, Siri, a physical user interface, play music, answer calls, and sync automatically through Apple iCloud, allowing users to share audio sources with other connected devices using the same Apple ID. They can also act as standard Bluetooth headphones when connected. Any device that supports Bluetooth 4.0 or higher including Android devices; During this article, we will learn about the specifications of all versions of AirPods, with the advantages and disadvantages of each of them.
Old AirPods
The first AirPods were revealed on September 7, 2016, along with the iPhone 7 and Apple Watch Series 2, and went on sale online on December 13, 2016. The AirPods wireless headset is officially available for sale on the market on the 20th of the same month; The launch of this headset was a great leap in the world of wireless headphones, regardless of its high price, as it is the first portable Bluetooth speaker.
Specifications:
The weight of the headset is very light as each headset weighs about 4 g and its charging case weighs 38 g.
This wireless headset contains a battery with a capacity of 93 mAh and works for 5 hours of use, and the charging case battery has a capacity of 398
mAh charges the speaker for up to 24 hours of use.
AirPods have Apple's own W1 processor that helps improve battery usage, Bluetooth connection handling, and audio.
It has dual beamforming microphones, one at ear level and one at the bottom of the headset.
The charging case works with Qi-certified chargers or a Lightning connector.
Control the speaker by tapping it twice to play, skip to the next track, or answer a call.
AirPods wireless headphones are priced at around $160.
Features:
Exquisite design and very light weight.
The battery is good and 15 minutes of charging is enough for 3 hours of use.
Contains upgradeable firmware
You can answer calls without returning to the phone by pressing twice on the headset
Defects:
The price is rather high.
Not resistant to water and sweat.
Does not support noise cancellation
It does not support charging case.
Airpods 2
The Apple Airpods 2 are the second generation of wireless AirPods that come with some upgrades from the first generation. They are now available with a Qi-compatible wireless charging case and support Siri for more ease of use. Overall, the Airpods 2 are comfortable, well-designed, lightweight earbuds. weight and comfortable, Below are the specifications of this headset with its advantages and disadvantages.
Specifications:
They are light in weight as each earphone weighs 4 grams, And the wireless charging box weighs 40 grams.
Includes a new H1 processor from Apple to pair with all Apple devices signed in to your iCloud account. Apple said about the AirPods 2 that it has a more stable wireless connection and lower latency thanks to the H1 processor.
The headset only lasts between 4-5 hours of continuous playback but gets fully charged in just 30 minutes, And the charging case can provide 24 hours of use.
Bluetooth 5.0 connectivity.
Also works with Qi-certified chargers or a Lightning connector.
The price of the Apple Airpods 2 is about $254.
Features:
It has a unique and distinctive design
Supports noise canceling feature
It supports fast charging, as the battery can be charged in less than half an hour.
It has an unobtrusive built-in microphone
Defects:
Expensive compared to the first generation and there are no major upgrades on the level of specifications.
The touch-sensitive control system is a bit limited and can be tricky to use.
Not resistant to water and sweat.
Noise isolation is poor and does not work well compared to its high price.
Apple Airpods Pro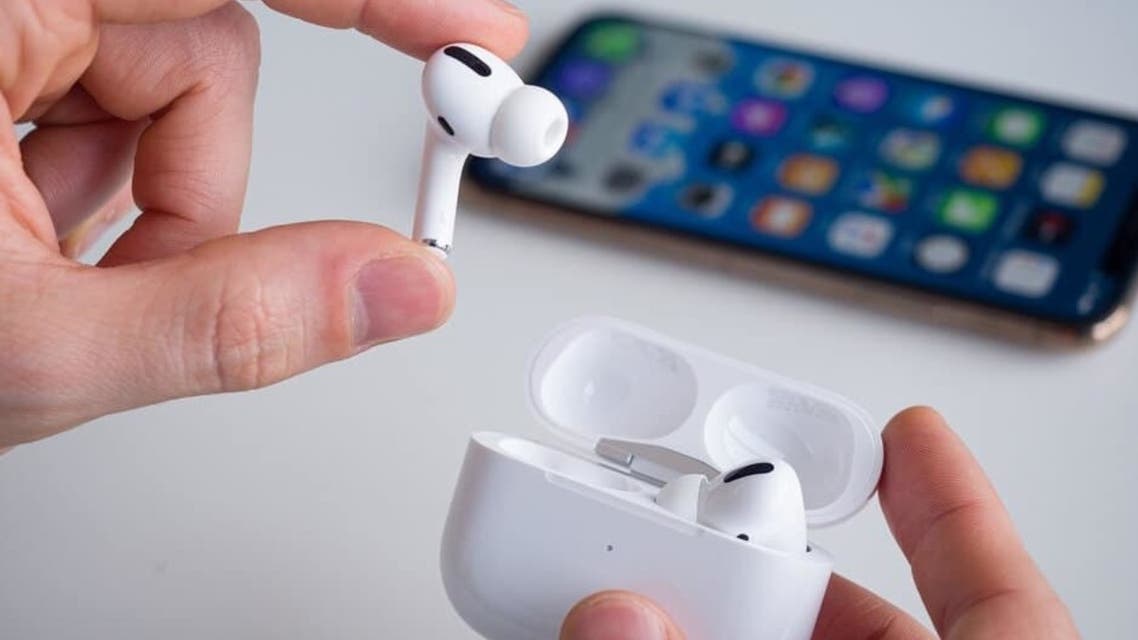 Airpods Pro is considered the best version of AirPods headphones as it looks better but it still comes with the same design as the previous versions with a prominent stem, but fortunately the stem is shorter this time and offers some great new functions and also only white color is available, More importantly, Apple has taken great measures to ensure that the Airpods Pro allow for a comfortable fit this time around.
This headset includes three silicone tips of different sizes but in true Apple style they have developed their own style of ear tips that don't have a nozzle but just click into place and this is a very convenient addition, although it forces you to buy eartip replacements from Apple and these alternatives are economical To an extent so this shouldn't be a problem; In any case, we will learn about the specifications of the Apple Airpods Pro wireless headset.
Specifications:
The design is not much different from the others, but the trunk has become shorter than previous versions.
It is based on an assembled integrated circuit system based on the H1 chip.
The battery works for 5 hours of continuous operation, and the charging case provides about an hour of use, and the headset supports fast charging technology, as 5 minutes in the charging case provides a usage time of up to an hour, which means that the headset will be fully charged in just 25 minutes.
Works with Qi-certified chargers or Lightning connector
It has multiple sensors that include dual optical sensors and a pressure sensor as well as a motion-recognizing accelerometer and a speech-recognition accelerometer.
The connectivity system in this headset is Bluetooth 5.0.
Control options Tap once to play, pause, or answer a call, tap twice to skip to the next track, tap three times to go back to the previous track, or tap and hold to switch between Active Noise Cancellation and Transparency mode.
The price of this headset is about $285.
Features:
It can be used while running as it is water and exposure resistant with an IPX4 rating.
Supports noise and noise isolation.
It includes a pressure equalizing air intake system, a custom Apple-designed high-expansion driver, and a custom high-dynamic range amplifier.
Supports fast charging.
The case contains three sizes of silicone in-ear tips.
Defects:
The price is high but still better than the previous versions.
In the end, you should know that if you want inexpensive headphones that will do just that, There are many other headphones, such as the competition for the Apple AirPods Jerome headphone.
If you are a person who cares about sound quality and purity first and foremost, It is indispensable for the original Apple headphones, which have proven their strength and quality in performance in various versions.